So now she would have the position maintained for Her viewing and fucking pleasure. Secondly, She would have the right tool for the job to give the most enjoyable ass fucking. Now, Mistress needs a little help in keeping Her new cock in place. 
One of the problems with a double ended dildo like this and your run of the mill harness is that most harnesses have a flat back to them that does not allow for a dildo to come from behind it. The solution is....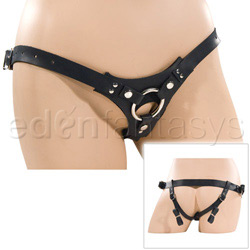 The Pretty Boi harness. With this harness, She could place the Feeldoe(or even better) Her Nexus inside of Her and slide the penetrating  end through the hole in the front. Then She would be able to fuck hard or soft without any worry of Her dildo slipping out of Her pussy.
It should be like the perfect alignment of the planets. Out of this world!